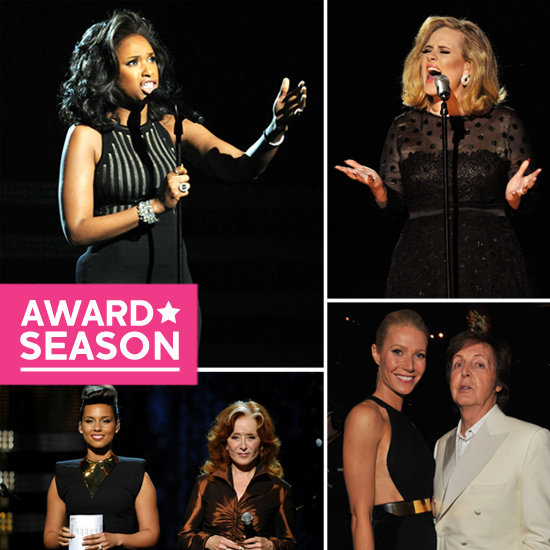 As Fashion Week progresses, Award Season goes full throttle! Last night, the queens, kings, princes and princesses of the music industry dazzled us on the red carpet for the 54th time! The 2012 Grammy awards took place at the illustrious & re-known Staples Center in Los Angeles California.
There was no Jay-Z & Kanye in attendance, but with amazing talents like Adele, Rihanna and Alicia Keys there were bound to still be lots of chatter and bold moments - and there were! Some were funny, jaw opening, and some powerful and tear-jerking with the recent passing and tribute belted by Jennifer Hudson to an irreplaceable soul, Whitney Houston!
Continue Reading to see the Besos Best & Worst Dressed, Style Statements, & Trend Watches.
If you want, you can click the pictures to enlarge them.
If you were watching carefully or not, you couldn't help but to notice the bright colors and textures on the carpet - but, even with the abundance of brights it was nearly impossible to overlook the beautiful black gowns gracing the grammys!
With some of the most anticipated arrivals, Rihanna, Adele, Alicia Keys & Gwenyth Paltrow all adorned black gowns and gold hardware! For a few other stars in black, check out the pictures of Ex egg fetus Gaga, Rebecca Black, Shawna Thompson, Cyndi Lauper, Adam Levine's Russian model girlfriend Anne Vyalitsyna as well as John Legend's girlfriend.
L-R
Songstresses Rihanna (& Adele both wore custom black Giorgio Armani gowns. Rihanna accessorized with Christian Louboutin heels, a Jimmy Choo clutch, and Neil Lane jewels.
Singer
Alicia Keys
wore a black Alexandre Vauthier dress and accessorized with Christian Louboutin heels.
Adele
accessorized with Harry Winston jewels.
Actress Gwyneth Paltrow wore a black Stella McCartney dress.
[L-R]
Kelly Rowland
(en Alberta Ferretti)
Carrie Underwood
(en Gomez-Garcia)
Taylor Swift
(en Zuhair Murad)
Katy Perry
(en Elie Saab) Rihanna (en custom Giorgio Armani) Kate Beckinsale (en Zuhair Murad) Amber Rose (en Versace)

A few of my other fav looks were Paris Hilton and Kelly Osbourne.
Who were your favorite glam goddesses and whose outfits were in your nightmares? What was your favorite performace of the night?
Comment Below, Lets Convo!
Comments